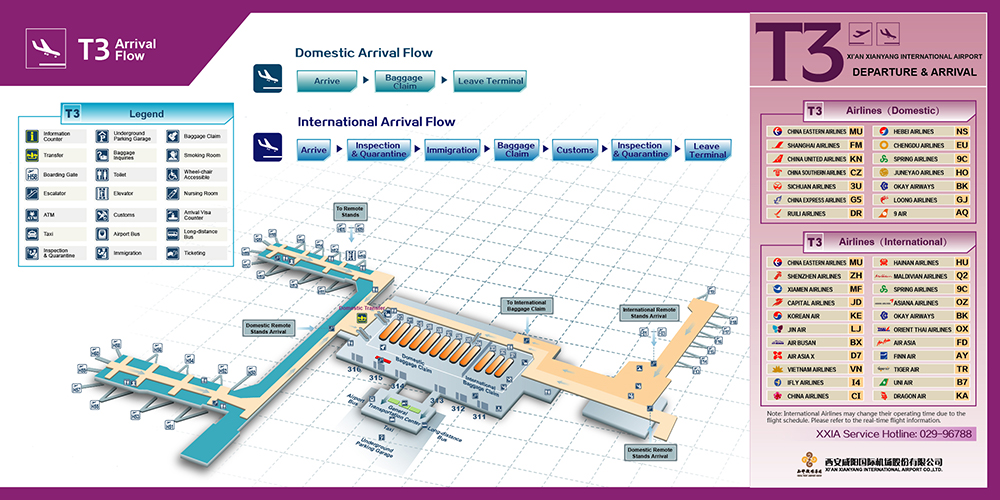 Baggage Claim

The Basics – A guideline for arriving passengers
Baggage Claim
After having left the aircraft, arriving passengers please make their way to the baggage claim area. For information on the specific belt your luggage can be collected at, please refer to the monitors installed in various locations throughout the arrival area.
If you are travelling with heavy or numerous pieces of luggage, you are welcome to take advantage of the free baggage trolleys, or approach the baggage handling counter for further service.
If you have transported bulky or outsized pieces of luggage, please collect those at the designated counter.
In the event of lost luggage, please make your way to the Baggage Inquiry for further assistance.
Health Inspection
According to the General Administration of Quality Supervision, Inspection, and Quarantine of the People's Republic of China, passengers do not have to fill out the Entry-Exit Health Declaration Form at times when there is no international or domestic outbreak of epidemic diseases.
If you are, however, suffering from one or more of the following diseases, please report immediately to the health inspection authorities on site:
- Fever
- Vomiting
- Jaundice
- Diarrhea
- Acute rash
- Swollen lymph nodes
- AIDS
- Sexually transmitted diseases
- Psychosis
- Tuberculosis
Please note that passengers from Yellow Fever Risk Areas must provide a valid yellow fever vaccination certificate to the health inspection officers upon arrival.
For your own safety and that of others, there may be tests of body temperature and other forms of medical observation at the airport. Diseased passengers and those suspected to be will be stopped to receive full epidemic investigation and medical examination, on the base of which decisions for further actions will be made.
Chinese citizens, who have lived overseas for more than one year, please proceed to the health inspection's HIV/ AIDS check point. Alternatively, passengers can collect an HIV inspection application form and receive their health check at an inspection and quarantine institution or hospital (at or above county level) within one month at the latest.
International passengers coming to China with the aim of long-term work, study or residency will have to undergo a health check at an inspection and quarantine organ upon entering the country.
Border Control
Every traveler entering the country must present their properly completed arrival card at the frontier control points. Typically, passengers are already issued with a blank arrival card for them to fill out on their flight here.
Foreign travelers intending to enter the country must hold a valid passport, entry visa and properly completed arrival card, and will have to present all documents to border control upon entry.
Chinese travelers have to hold and present a valid passport to authorities upon entering the country.
Customs
Visitors to China are kindly advised to comply with the effective Customs regulations.
1 Red Channel: Goods to declare
Please use the red channel, if you carry more than the permitted duty-free allowances and/or any goods you intend to use for commercial purposes.
2 Green Channel: Nothing to declare
Please use the green channel, if you do not carry more than the permitted duty-free allowances, and goods are intended for private consumption.
Notes:
- Regardless of whether you take the Red or the Green Channel, your baggage may be examined at discretion of the officers.
- If you are unsure about your duty-free entitlement, or whether or not you have to declare any of the goods you bring into the country, please go to the Customs Enquiry Pointor check the Notice on Customs Regulations on this website.
- Passengers under the age of 16, who are travelling in the accompaniment of adults, are exempt from the need to state a separate declaration.
Leaving the Airport
As you leave the airport there are different means of transport at your service, taking you to various destinations in Xi'an and its surrounding area.
For more information on transportation to and from the airport, destinations, prices, etc., please visit the Transport section on this website.