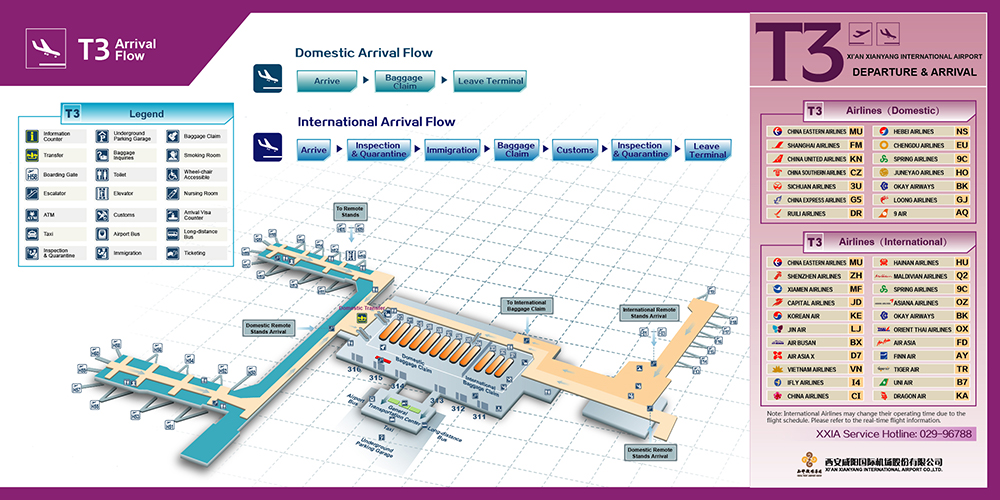 Baggage Claim

After having left the aircraft, arriving passengers please make their way to the baggage claim area. For information on the specific belt your luggage can be collected at, please refer to the monitors installed in various locations throughout the arrival area.
If you are travelling with heavy or numerous pieces of luggage, you are welcome to take advantage of the free baggage trolleys, or approach the baggage handling counter for further service.
If you have transported bulky or outsized pieces of luggage, please collect those at the designated counter.
In the event of lost luggage, please make your way to the Baqqaqe Inquiry for further assistance.
Leaving the Airport
As you leave the airport there are different means of transport at your service, taking you to various destinations in Xi'an and its surrounding area.
For more information on transportation to and from the airport, destinations, prices, etc., please visit the Transport section on this website.
Meeting Arriving Passengers
If you are meeting arriving passengers, please refer to the table below to know which terminal to wait at.
Terminal 2
Xiamen Airlines MF,Shenzhen Airlines ZH,Air China CA,Hainan Airlines HU,Tianjin Airlines GS,Beijing Capital Airlines JD,Lucky Air 8L West Air PN,Kunming Airlines KY,Shandong Airlines SC,Donghai Airlines J5,Joy Air JR,China Postal Airlines 8Y
Terminal 3
China Southern Airlines CZ,China United Airlines KN,Shanghai Airlines FM,China Eastern Airlines MU,Sichuan Airlines 3U LOONG Airlines GJ,Spring Airlines 9C,Juneyao Airlines HO,Okay Airways BK,Chengdu Airlines EU,Hebei Airlines NS,China Express G5,Ruili Airlines DR,9 Air AQ